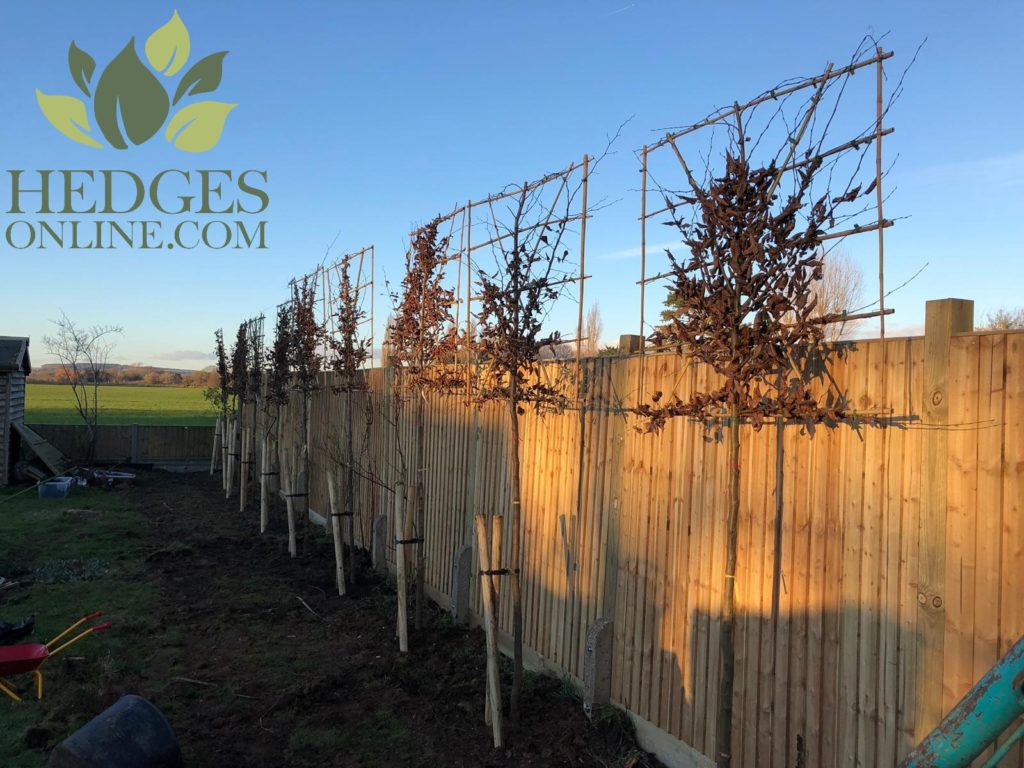 Pleached Trees to New Development Site
One of our increasingly popular forms of hedging is pleached trees. Pleaching is the art of creating a raised hedge screen and can be a particularly effective way to add a green visual barrier above wooden fence panels.
This photo comes from a customer who has used pleached Hornbeam (Carpinus betulus) to do just this. Hornbeam is a very popular choice for pleached hedging as although it is deciduous, its dead leaves tend to hang on the branches all winter, giving an attractive copper colour and an element of visual screening even in the winter. The dead leaves will then be pushed off in the spring by the new green leaves as they come out.
An advantage of planting pleached trees is that it creates a seamless transition from the wooden panelled fence to the green screen above, thus drawing your eye away from the unattractive fence. Having clear stems, it also means that the bed along the fence can be planted with shrubs and other foliage to create an attractive border without interfering with the pleached hedge above. They work well to maximise the use of space whilst giving the most privacy.
Our most popular pleached trees include Hornbeam (Carpinus betulus), Field Maple (Acer campestre) and Lime (Tilia cordata). You can view our full range on our pleached hedging page. In the winter we can supply these pleached trees in a bare root format which is a much more cost effective way of planting, but all throughout the year we can supply container grown specimens. Watering will, of course, be a much more important factor if you are planting during the drier months of the year and should not be underestimated.
We recommend that all of our pleached trees are planted using a tree stake and tree tie to secure them whilst their roots get established as proper anchors in the ground. The pleached frames when out in leaf can act as giant sails catching the wind and if they are not planted correctly can cause them to blow over. For this reason we always suggest that they are properly anchored in the first few years after planting with stakes and ties to ensure this doesn't happen.
You can follow all of our latest news stories on our Twitter or Facebook feeds.