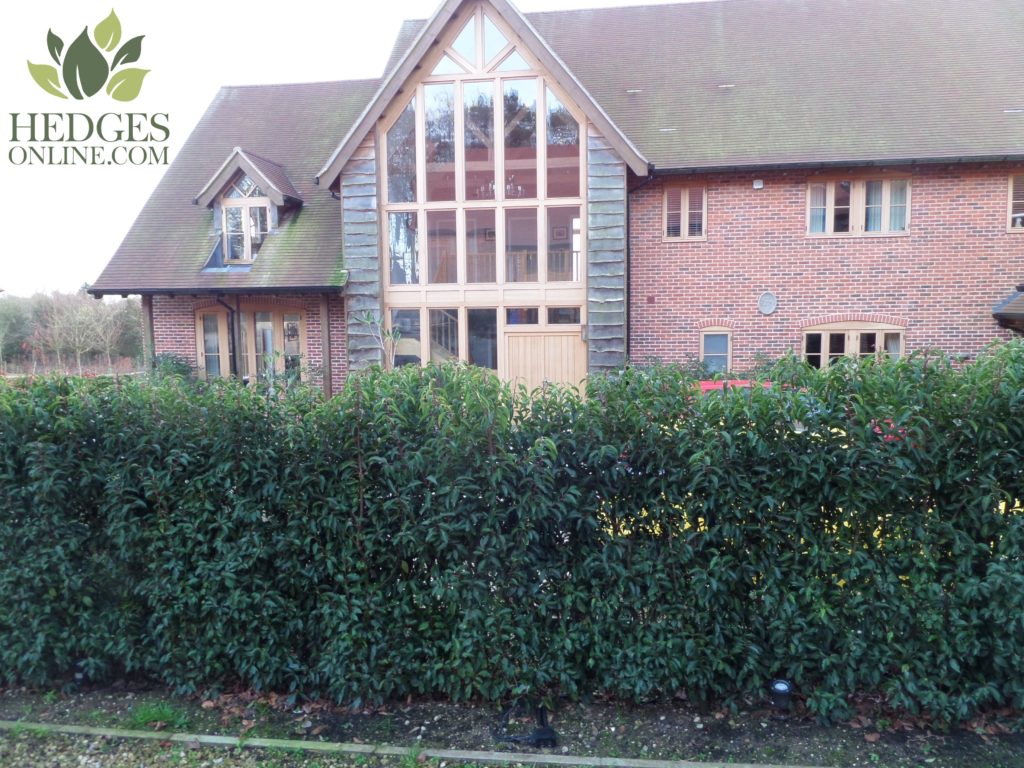 More Happy Customers - Portuguese Laurel
We love seeing photos from happy customers. This one was provided recently by a customer who bought Portuguese Laurel hedging from us recently and look how good it looks!
Prunus lusitanica is commonly known as Portuguese Laurel or Portugal Laurel. It has become an increasingly popular hedging plant in recent years and is now one of our best sellers. Unlike Common (Cherry) Laurel, it has small dark green leaves and is much more similar to Bay (Laurus nobilis). Many people prefer the dark green colour and consider it a smarter option than some of the lighter green coloured evergreen hedges. It is usually a more cost effective option than planting Yew (Taxus baccata) whilst producing a hedge that is similar in colour, albeit with a different style of foliage.
Portuguese Laurel can be used to grow small or tall hedges. We regularly have customers looking to achieve hedging heights of 8ft (2.5m) but is also quite happily grown as a small boundary or partition hedge of only 2 or 3ft (1m) making it a very versatile and useful plant for a variety of situations.
Unlike some of its other evergreen competitors, Portuguese Laurel is not the fastest growing hedge, and will usually put on about a foot (30cm) of growth a year. That being said, planting any good sized plants at a distance of 2ft (60cm) stem to stem is an easy way to produce a dense visual barrier in a fairly short time frame. Always try and buy the bushiest plant available as it will thicken out into a hedge quicker after pruning.
We usually recommend that a Portuguese Laurel hedge only needs clipping once a year, in the spring or autumn. This will help it to keep its shape and looking smart. Some people prefer to clip their Portugal laurel hedges in the autumn, as in the late spring there will often be an abundance of small white flowers.
We normally stock an extensive range of Portuguese Laurel hedging all year round. We grow much of our own stock in both our open ground nursery and our container nursery. We supply root balled plants throughout the colder months of the year which usually provide a cost effective way to plant a good sized hedge without costing the earth. Alternatively, we sell container grown plants all year round which are a much more premium product, although if planting during the warmer months, careful attention needs to be paid to their watering. To view our current stock of Portuguese Laurel click here.
You can view us trimming our young stock Portuguese Laurel hedging plants via our youtube page by clicking here.
If you would like to speak to one of us about whether Portuguese Laurel is the right hedge for you, pick up the telephone and give us a call on 01252 714552. You will speak to someone who really knows what they are talking about and you can be sure to get honest and good advice. Alternatively email us on sales@hedgesonline.com.