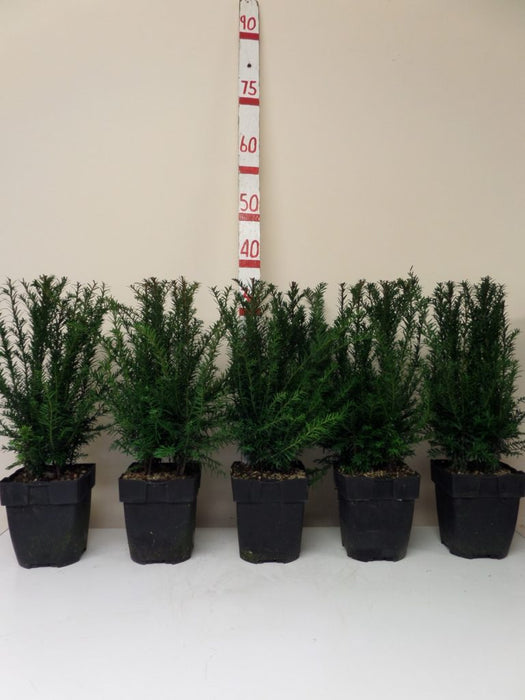 Yew Hedging 30-40cm in a 2lt square pot
Original price
£7.00
-
Original price
£7.00
Current price
£7.00
(+VAT)
These small Yew hedge plants (Taxus baccata) are ideal for creating a small hedge in the garden where eye level privacy is not required. These can be used to create small formal hedges demarcating parts of a garden or to provide a neat edge to borders and flowers beds.
Taxus baccata is slow growing and clips well to form a dense hedge with dark evergreen foliage.
To plant a low Yew hedge we recommend that these plants are planted at 5 per metre (which is the spacing shown in the photograph.
Yew has been used as a hedging plant for many centuries and can be considered quintessentially English as its slow growth means that it keeps its smart shape well after clipping. Yew hedging will often be found in many parks and gardens across the country including in the gardens of many stately homes. yew is native to the UK and has been used for many centuries as a hedging plant. It clips well and has a dense habit so is highly appropriate where smartness and formality is required from your hedge.
Many people choose Yew as an alternative to Box hedging, although we do supply a range of plants suitable for growing smaller hedges. See our Smaller Hedging category page.
Yew is tolerant of most soil types although it does not like waterlogged soil. It also grows quite happily in full sunshine or in shade making it very versatile for a number of different situations.
More information about planting Taxus bacatta hedging can be found on the Yew Hedging category page.
For more information about Yew Hedging 30-40cm in a 2lt square pot or to discuss alternative products, call us on 01252 714552 or email at sales@hedgesonline.com. Our staff are always pleased to discuss your requirements and what products would be best suited to your garden.
Delivery
Should you require delivery, a delivery charge will be calculated based on your postcode and added at the checkout stage. Collection from our nursery at GU10 2BH is free of charge.