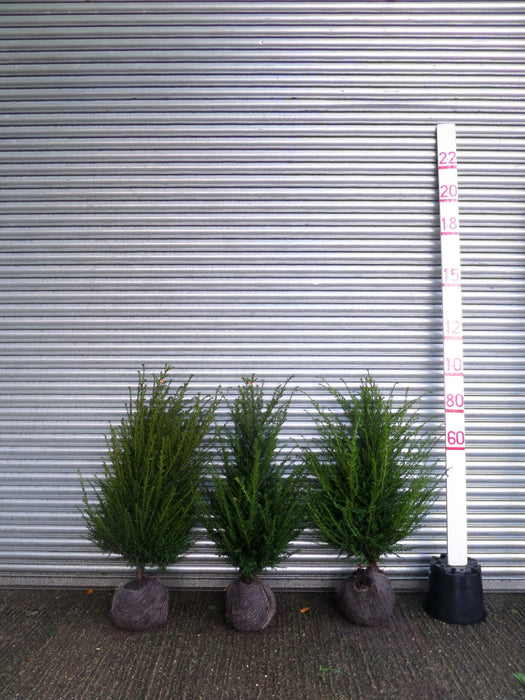 Yew Hedging 2.5-3ft (80-100cm) Root Balled
Original price
£22.50
-
Original price
£22.50
Current price
£22.50
(+VAT)
These small root balled yew hedge plants are an effective way to establish a yew hedge at a low level using bushy plants that won't cost the earth. These plants have been properly root balled in the field meaning that their roots are well contained in plenty of soil with hessian wrapped around them. Being root balled rather than container grown, these plants represent good value for money but should only be planted in the colder months of the year and watered properly in their first year after planting. These plants are all sold as 2.5-3ft (80-100cm) in height.
Yew is slow growing and one can expect 6-9 inches of growth a year if left untrimmed. It forms a dense evergreen hedge with dark green foliage which looks extremely smart and is often used in many formal gardens and parks. Yew has been used as a hedging plant for many centuries and can be considered to be the quintessential English hedge and can be grown as a small hedge to demarcate parts of a garden or to provide a neat edge to borders and flowers beds. Alternatively, Yew can be grown into a taller hedge and will quite happily grow to several metres high or maintained as a 6ft hedge to give that all important eye level privacy.
A Yew hedge will need to be trimmed annually in the spring or autumn.
These small root balled yew hedge plants are shown in the photograph as being 60cm apart which is the correct planting distance to give an immediate screen.
Yew is tolerant of most soil types although it does not like waterlogged soil. It also grows quite happily in full sunshine or in shade making it very versatile for a number of different situations.
More information about planting a small root balled yew hedge can be found on the Yew Hedging category page.
For more information about Yew Hedging 2.5-3ft (80-100)cm Root Balled or to discuss alternative products, call us on 01252 714552 or email at sales@hedgesonline.com
Delivery
Should you require delivery, a delivery charge will be calculated based on your postcode and added at the checkout stage. Collection from our nursery at GU10 2BH is free of charge.