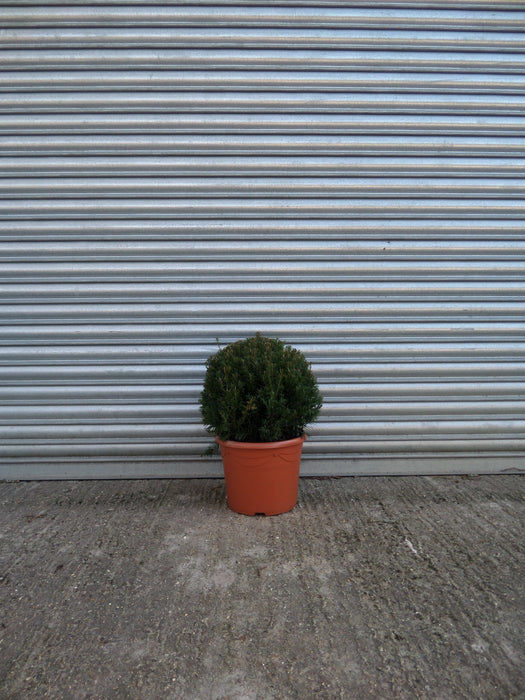 Topiary Yew Ball 35-40cm
Original price
£47.50
-
Original price
£47.50
Current price
£47.50
(+VAT)
Planting a topiary yew ball is an effective way to add an element of architectural style to your garden or yew hedge. These balls are are all 35-40cm wide and have been tightly clipped to produce a dense and smart topiary feature.
Many people plant topiary features either in pairs or in lines to add a stylish feature to their garden. A topiary ball can also be complemented with topiary cubes, cones or feature shapes.
Yew (Taxus baccata) is also known as English Yew or Common Yew. Being native to the UK, yew has been used for many centuries as a hedging conifer and has been a popular choice for topiary for a long time. For this reason it is extremely popular and being evergreen it produces a mass of small green needle leaves and grows well in many situations, including shady and dry sites. Yew will often be found in many formal gardens as it clips well and retains its shape.
Yew is slow growing and these topiary features should be trimmed once or twice a year to ensure that the shape is kept and to ensure that the plant retains its dense habit. Yew clips extremely well and can be used to make very tight shapes.
Taxus baccata grows well in most soil types (except waterlogged ground), including dry sites and in shade however we recommend that planting compost is used to give your plants the best chance of establishing well in their first few years after planting.
More information about planting a yew hedge can be found on the yew hedging category page. We usually stock a range of different sizes of yew hedge plants including root balled plants during the colder months of the year and container grown plants all year round as well as our range of topiary.
For more information about Topiary Yew Ball 35-40cm or to discuss alternative products, call us on 01252 714552 or email at sales@hedgesonline.com
Delivery
Should you require delivery, a delivery charge will be calculated based on your postcode and added at the checkout stage. Collection from our nursery at GU10 2BH is free of charge.