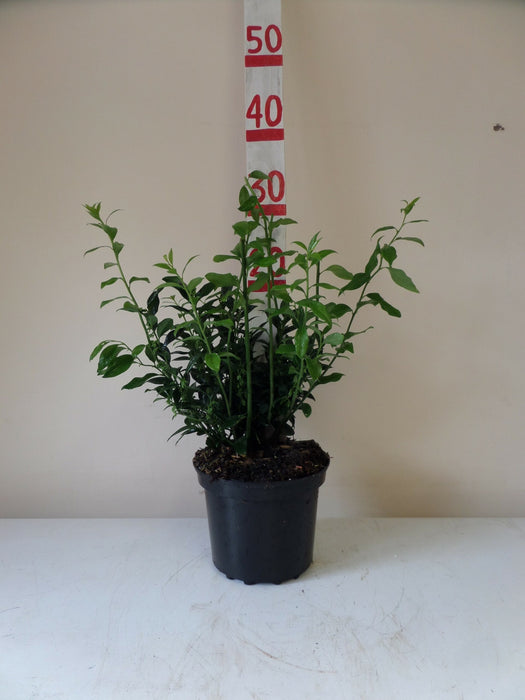 Sarcococca Confusa 30cm in a 2lt pot
Original price
£7.50
-
Original price
£7.50
Current price
£7.50
(+VAT)
Sarcococca is a good option for creating a small hedge as it has a very pleasant sweet scent in the winter resulting in it having the nicknames Christmas Box and Sweet Box. It has become increasingly popular in recent years for creating small hedges but is still a very underused and very understood hedging plant. These Sarcococca are grown in 2lt pots to ensure that they will establish quickly in your garden after planting.
Sarcococca is evergreen and has dark green leaves and following its winter flowers, it produces dark berries which are a useful source of food for birds. It grows well in shady spots, making it a very versatile plant to put in less favourable areas. That it flowers in winter is a pleasant addition to any garden at an otherwise unflowery time of year.
It is slow growing and should be trimmed annually to help thicken it up into a dense hedge shape. We recommend planting Sarcococca at 5 plants to the metre which will give enough density to create an immediate barrier hedge, albeit at a low level, which will give an attractive demarcation to any garden.
If planting during the drier summer months, it is important to water your hedge properly. Despite Sarcococca being tolerant of many different soil types, we recommend that the soil is mixed with planting compost to give it the best chance of establishment of roots in its first few years after planting.
More information about planting a Sarcococca hedge can be found on the category page. We usually stock a range of different sizes of smaller hedging plants including bare root plants during the colder months of the year and container grown plants all year round.
For more information about Sarcococca Confusa 30cm in a 2lt pot or to discuss alternative products, call us on 01252 714552 or email at sales@hedgesonline.com
Delivery
Should you require delivery, a delivery charge will be calculated based on your postcode and added at the checkout stage. Collection from our nursery at GU10 2BH is free of charge.