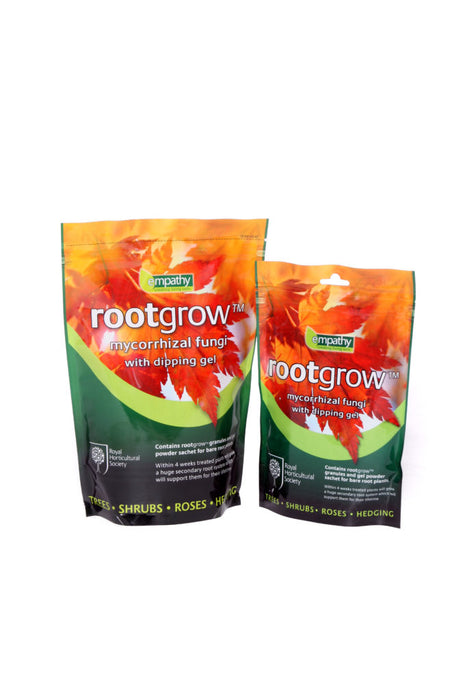 Rootgrow with dipping gel
Original price
£7.50
-
Original price
£37.50
Current price
£7.50
(+VAT)
There is probably not one single other group of plants that will benefit more from Rootgrow mycorrhizal fungi than bare root hedging and trees.
The reason behind this is simple, a bare root plant has been lifted from a growing field and has had its roots pruned down to a fraction of their original size, rootgrow mycorrhizal fungi redresses this balance very quickly as the fungal root grows so much faster than the plants own root. This gives the plant access to nutrients and water in the soil very quickly guaranteeing good establishment and significant early growth.
It is in the specific case of planting bare root trees that the Royal Horticultural Society recommends the use of rootgrow based on over a decade of experience in using it and seeing the benefits.
Each pack of Rootgrow with dipping gel contains mycorrhizal fungi granules and a sachet of gel powder for bare-root plants. Within 4 weeks treated plants will start to grow a secondary root system which will support them for their lifetime. Mix the gel with water in a bucket and then add the granules and stir to make a thick solution to dip the roots of your bare-root plants in before planting.
Watch our video here on the importance of Rootgrow for bare root plants.
Available in pack sizes of 360g, 1kg or 2.5kg. If you are unsure how much you need, please call us on 01252 714552 or email us on sales@hedgesonline.com and we can advise you on what would be suitable for your planting requirements.
Delivery
Should you require delivery, a delivery charge will be calculated based on your postcode and added at the checkout stage. Collection from our nursery at GU10 2BH is free of charge.