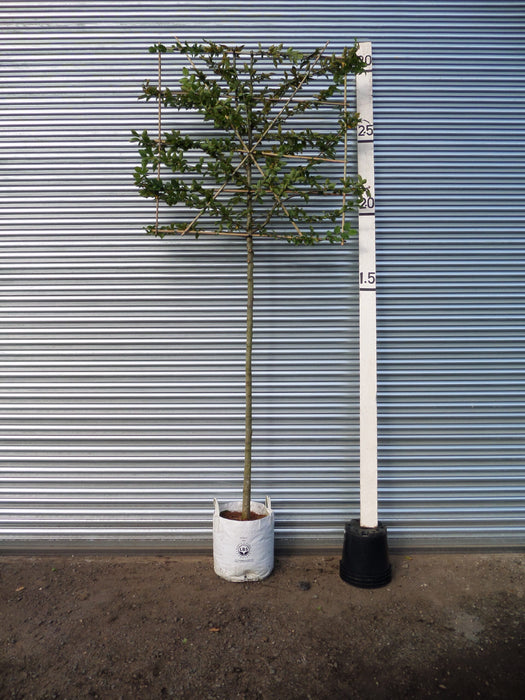 Pleached Hornbeam 6ft (180cm) stems with 4x4ft (120x120cm) head
Original price
£250.00
-
Original price
£250.00
Current price
£250.00
(+VAT)
Pleached hornbeam trees create a striking addition to a garden and can be a highly effective way to create a raised screen.
These pleached hornbeam are planted in container bags with handles which makes for easier handling whilst planting. Their stems are 6ft (180cm) tall and have no branches below their heads which are 4x4ft (120x120cm).
Due to the size of these plants, we will need to quote for delivery on an individual basis. Please telephone us to discuss delivery of your plants. Plants can, of course, be collected from our nursery free of charge.
Hornbeam is a very traditional form of hedging and is native to the UK. The first green leaves of the year are synonymous with the arrival of spring and the leaves will remain green until the autumn when they will turn a golden-copper brown colour. Hornbeam, unlike many of its deciduous competitors, will retain its dead leaves on the hedge for most of the winter and they will only be pushed off by new growth the following spring. This helps a hornbeam hedge to give an added level of visual privacy all year round.
These pleached trees should be trimmed annually to retain their shape and to encourage them to thicken out.
Pleached trees can be planted singularly or in avenues according to your planting plan.
Hornbeam are much more tolerant of wet and heavy soils than beech but if you are planting during the drier months of the year, it is important to water them properly during their first year after planting. This is best done using leaky hose which is cheap, easy to install and highly effective. See our Accessories page for more details.
More information on hornbeam can be found on the hornbeam hedging category page.
For more information about Pleached Hornbeam 6ft (180cm) stems with 4x4ft (120x120cm) head or to discuss alternative products, call us on 01252 714552 or email us on sales@hedgesonline.com
Delivery
Should you require delivery, a delivery charge will be calculated based on your postcode and added at the checkout stage. Collection from our nursery at GU10 2BH is free of charge.