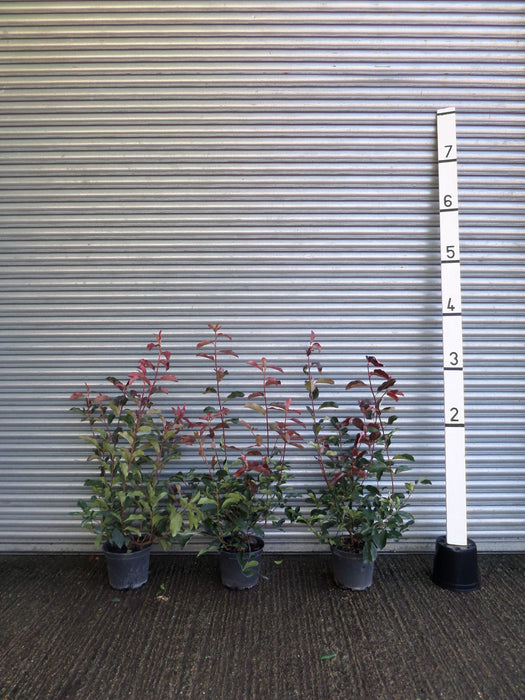 Photinia Red Robin 3ft (90cm) in a 7lt pot
Original price
£19.00
-
Original price
£19.00
Current price
£19.00
(+VAT)
These Photinia Red Robin hedge plants are all 3ft (90cm) high in 7lt pots. Photinia Red Robin (Photinia x fraseri 'Red Robin') is a spectacular clone of the evergreen Photinia with glossy green leaves and bright red attractive young leaves.
A single Photinia Red Robin if left untrimmed can be grown as an attractive specimen shrub to a large size but it responds well to clipping and can be used to make a hedge of any height from 3-8ft. Whilst Photinia Red Robin can make an excellent specimen shrub, we do not recommend it as a hedging plant if you are expecting a dense visual barrier as it does have a tendency to go thin with age. If a dense hedge is what is required, we can recommend many alternatives including Laurel, Leylandii, Yew or Portuguese Laurel amongst others.
These Photinia Hedging plants should be planted 2ft (60cm) apart (this is the spacing that they are shown in the photograph, centre to centre) and should be watered regularly during the first year of planting, especially if planting during the warmer and drier summer months.
These plants will grow well in full sunshine and also in partial shade making it very versatile to different situations.
We recommend trimming your Photinia Red Robin hedge twice a year to keep it thick and vibrant. Once in the spring before a new flush of growth, and once in the autumn. Trimming twice a year will encourage thick new growth with its vibrant bright red coloured leaves to keep it looking good.
More information about planting a Photinia Red Robin hedge can be found on the category page.
For more information about Photinia Red Robin 3ft (90cm) in a 7lt pot or to discuss alternative products, call us on 01252 714552 or email at sales@hedgesonline.com
Delivery
Should you require delivery, a delivery charge will be calculated based on your postcode and added at the checkout stage. Collection from our nursery at GU10 2BH is free of charge.