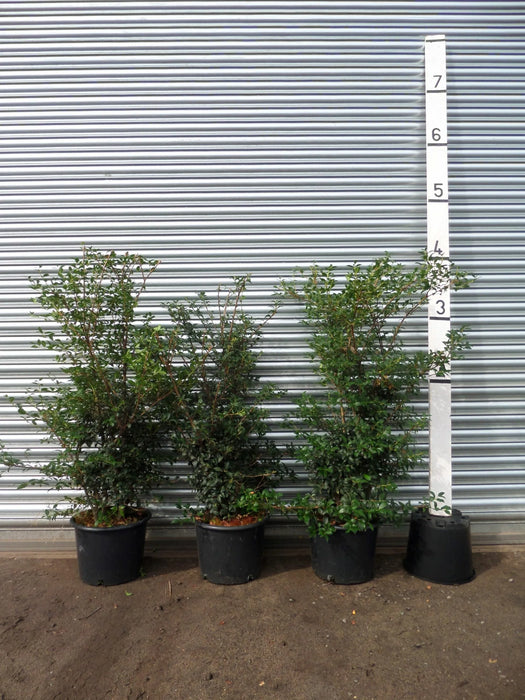 Osmanthus Burkwoodii 3.5-4ft (100-120cm) in a 20lt pot
Original price
£45.00
-
Original price
£45.00
Current price
£45.00
(+VAT)
Each of these Osmanthus hedge plants is 3.5-4ft (100-120cm) in height and growing in a 20lt pot, so these plants come with well established roots ready for planting out into any garden. Being pot grown, these are a much more premium product than buying bare root or root balled plants.  these have been field grown and trimmed regularly to make nice dense plants and have been potted for a year to ensure a fantastic root system.
With its small dark green leaves, Osmanthus clips well to make a dense and tidy hedge. In the spring it has highly scented creamy coloured flowers. It should be clipped once a year after flowering which will encourage a thicker and denser hedge and will also encourage more flowers the following year.
Osmanthus will grow at an average pace for a small to medium sized hedge and will put on about a foot (30cm) of growth a year.
Although an Osmanthus hedge will grow well near to the coast, it can be susceptible to frost damage in particularly cold exposed inland spots.
These Osmanthus hedge plants should be planted 1.5ft (45cm) apart in a single row and will quickly thicken out into a hedge. This is the spacing shown in the photograph.
When planting your new hedge, it is important to give it the best start. We recommend planting your new hedge plants using compost which will help create the right environment for the roots to get established. It is also very important to water your hedge properly after planting, and this is especially important if you are planting during the warmer months of the year. A new hedge should be watered using leaky hose which is easy to install, highly efficient and cheap to buy.
Our team of experts are always happy to advise on any hedging requirement and whether these plants will do the right job for what you want. More information on planting an Osmanthus hedge can be found on the Osmanthus hedging category page.
Should you require any further information on Osmanthus or any other hedge plants, please email us on sales@hedgesonline.com or telephone us on 01252 714552.
Delivery
Should you require delivery, a delivery charge will be calculated based on your postcode and added at the checkout stage. Collection from our nursery at GU10 2BH is free of charge.