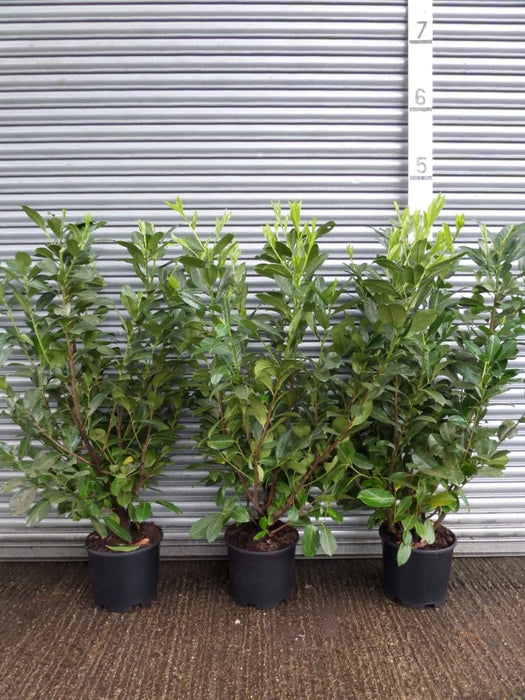 Laurel 4-5ft (120-150cm) in a 15lt pot
Original price
£35.00
-
Original price
£35.00
Current price
£35.00
(+VAT)
These Laurel hedging plants are all 4-5ft (120-150cm) in a 15lt pot. Laurel is a highly popular evergreen hedging plant as it is tolerant of most situations and soil types and its large vibrant green leaves and quick annual growth make it an excellent choice for creating a relatively instant hedge. Being an evergreen, a laurel hedge will provide all year round privacy as well as winter protection for many small mammals and garden birds. Blackbirds, thrushes and other native birds are particularly fond of them as nesting sites.
A laurel hedge will need to be clipped annually in the Spring or Autumn as you would with any other hedge. Additionally, if laurel gets too large, it can be cut back heavily and will regenerate the following year.
These Laurel hedging plants should be planted 2ft (60cm) apart (this is the distance shown in the product photograph) and careful preparation of the planting site is important. Laurels will tolerate most soil types but do not like being in waterlogged soil. It is recommended that the planting soil is mixed with compost to give the plants the best environment to grow in for their first year.
If planting these plants in the drier months, it is important that they are watered properly using leaky hose (sometimes described as porous pipe) which can be connected to your existing hose pipe and will slowly leak water onto the roots of your hedge in a controlled manner to ensure that it soaks in and your hedge becomes properly watered. Leaky hose is cheap, easy to install and very effective. See our Accessories page for more details on leaky hose.
More information about planting a Laurel hedging plants can be found on the Laurel category page.
For more information about Laurel 4-5ft (120-150cm) in a 15lt pot or to discuss alternative products, call us on 01252 714552 or email at sales@hedgesonline.com
Delivery
Should you require delivery, a delivery charge will be calculated based on your postcode and added at the checkout stage. Collection from our nursery at GU10 2BH is free of charge.