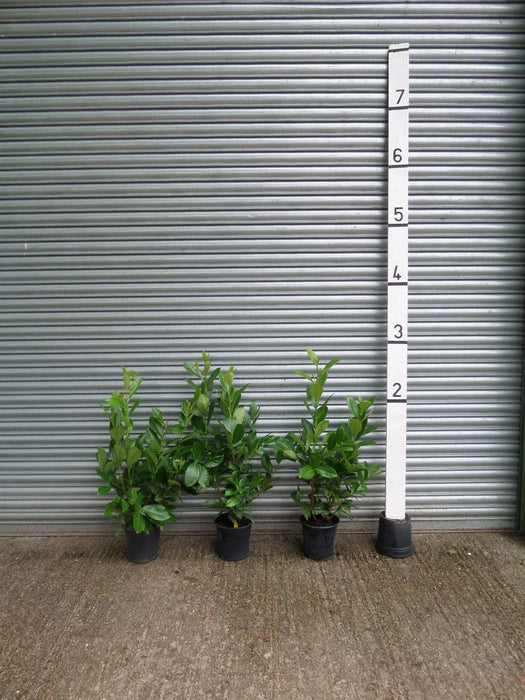 Laurel 2-2.5ft (60-75cm) in a 4lt pot
Original price
£10.00
-
Original price
£10.00
Current price
£10.00
(+VAT)
These small laurel hedge plants are a cheaper alternative to planting a laurel hedge using container grown plants if you don't mind waiting for it to grow to a taller height. These plants are all sold as being 60cm in height or larger but are growing every day at this time of year. Being container grown, these plants will establish quickly and are an economic solution to planting a laurel hedge where eye level privacy is not immediately required. We normally stock a range of sizes of laurel hedging throughout the year including various sizes of root balled laurel plants during the colder months and container grown plants all year round. Container grown laurels are a more premium product than root balled plants as the roots will have developed well within the fertile compost in the pot to give the best chance of swift establishment when planted out in the garden.
Laurel hedging is extremely popular due to its evergreen vibrant green rounded leaves. With its relatively quick annual growth, its tolerance for different soil types and its desirability as a bird nesting site, laurel remains one of our best sellers.
These laurel hedge plants should be planted 2ft (60cm) apart (but they could be planted at 50cm spacings) and one would expect a laurel hedge to put on 1-1.5ft (30-45cm) growth a year if left untrimmed. These laurel hedge plants are bushy specimens for their size and will not take long to thicken out into a hedge barrier. They are all multi stemmed plants so will create a bushy and dense hedge.
If planting these plants in the drier months, it is important that they are watered properly using leaky hose (sometimes described as porous pipe) which can be connected to your existing hose pipe and will slowly leak water onto the roots of your hedge in a controlled manner to ensure that it soaks in and your hedge becomes properly watered. Leaky hose is cheap, easy to install and very effective. See our Accessories page for more details on leaky hose.
More information about planting a laurel hedge can be found on the Laurel category page.
For more information about Laurel 2-2.5ft (60-75cm) in a 4lt pot or to discuss alternative products, call us on 01252 714552 or email at sales@hedgesonline.com
Delivery
Should you require delivery, a delivery charge will be calculated based on your postcode and added at the checkout stage. Collection from our nursery at GU10 2BH is free of charge.