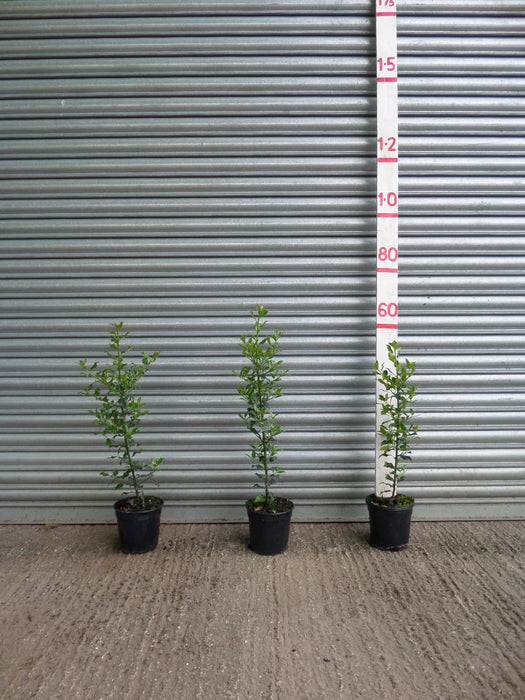 Holly 2ft (60cm) in a 3lt pot
Original price
£8.50
-
Original price
£8.50
Current price
£8.50
(+VAT)
These Holly hedge plants are growing in 3lt pots to enable quick establishment and are all currently 2ft (60cm). Holly (Ilex Aquifolium) is also known as Common Holly or English Holly and is a very traditional hedging plant having been cultivated for many centuries and being native to the UK. being pot grown, these hollies will get off to a good start and establish fast after planting.
It can be clipped into a dense and prickly formal hedge or allowed to grow more informally. It can also be cut back heavily to rejuvenate an older hedge.
With its prickly green foliage and vibrant red berries, Holly is synonymous with making Christmas wreaths and other festive decorations.
Wild birds favour Holly for nesting sites and its berries are a useful additional food source in the colder months. It is also a favourable nesting site for wild birds.
Holly is not the fastest growing hedge plant and one can expect 6-9 inches of growth a year. We recommend planting a holly hedge at a spacing of 1ft (30cm) between plants in a single row or for a more instant visual barrier, planting a double row of holly plants at a spacing of 1.5ft (45cm). The product photograph shows these Ilex aquifolium plants at 45cm spacings to give you an idea of immediate effect after planting but don't be afraid to plant slightly closer than this if you are looking for instant impact.
Holly is tolerant of most soil types although it does not like waterlogged soil. It also grows quite happily in full sunshine and also in partial shade.
More information about planting a Holly hedge can be found on the Holly hedging category page.
For more information about Holly 2ft (60cm) in a 3lt pot or to discuss alternative products, call us on 01252 714552 or email at sales@hedgesonline.com
Delivery
Should you require delivery, a delivery charge will be calculated based on your postcode and added at the checkout stage. Collection from our nursery at GU10 2BH is free of charge.