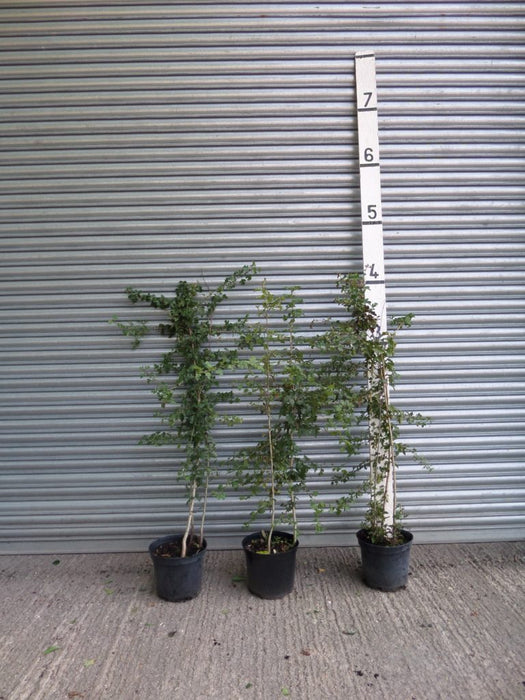 Hawthorn Hedging 4ft (120cm) in a 10lt pot
Original price
£15.00
-
Original price
£15.00
Current price
£15.00
(+VAT)
These pot grown hawthorn hedge plants are an ideal solution to planting Crataegus monogyna to give immediate effect after planting, albeit not at a fully established height if you are looking for an eye level hedge. Each of these plants is 4ft (120cm) from the top of the pot and comes with at least three stems in each pot. Being container grown, these trees will quickly establish in your garden after planting out and are a much more premium product than using bare root Hawthorn hedging plants. Container grown plants will typically be a more expensive option than planting bare root plants, however bare root plants are only available during the winter months of the year. These container grown trees will establish quickly in the garden and will require watering during their first season to achieve the best growth.
Hawthorn (Crataegus monogyna) is also known as Quickthorn. Hawthorn will be found in almost every farm hedge in the UK being a native tree variety. With its sharp thorny branches and white fragrant flowers, it is a fine sight to see in May when flowering is prolific. It will produce red berries (Haws) in the autumn which are popular with birds. Hawthorn will grow on many different soil types and is a good all rounder deciduous native hedging species when planted as part of a mixed species native hedge.
A pure Hawthorn hedge is relatively uncommon and it is mostly found as part of a mixed species native hedge and will grow extremely well with other species such as Blackthorn, Field Maple, Spindle, Beech, Dog Rose, Hazel and Hornbeam. Native hedges such as this can be found across much of the UK.
More information on Hawthorn hedging can be found on the bare root Hawthorn page or on the Native Hedging category page.
For more information about Hawthorn Hedging 4ft (120cm) in a 10lt pot or to discuss alternative products, call us on 01252 714552 or email at sales@hedgesonline.com
Delivery
Should you require delivery, a delivery charge will be calculated based on your postcode and added at the checkout stage. Collection from our nursery at GU10 2BH is free of charge.