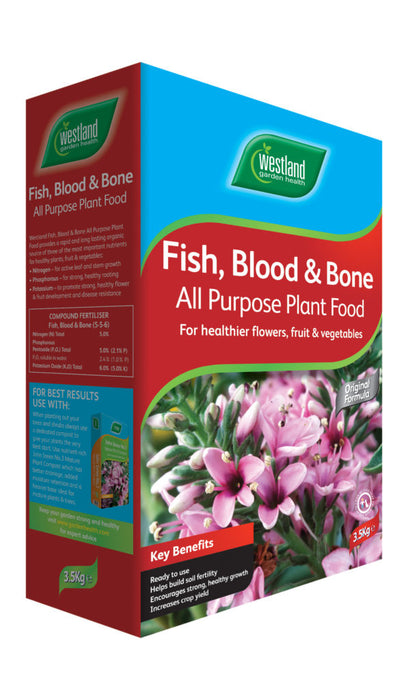 Fish, Blood & Bone Plant Food
Original price
£7.50
-
Original price
£15.00
Current price
£7.50
(+VAT)
Fish, Blood & Bone all purpose plant food is a natural organic feed made up of balanced nutrients for healthy gardens and can be used as a base or top dressing, not just for hedging and shrubs but is useful for most other garden plants and builds soil fertility. It is an easy to use granular feed that is ideal for encouraging stronger, healthier plant growth.
Our Fish, Blood & Bone all purpose plant food is a good natural source of all three of the major nutrients needed by plants. It can be used as a general purpose food for a wide range of plant types. Being especially high in phosphorous makes it particularly good for stimulating strong, healthy root growth. Phosphorous is especially good for encouraging root growth in plants.
It can be applied every 4-6 weeks throughout the growing season from February until the end of October. For best results the granules should be worked into the soil. During dry weather, water before and after application.
One handful of this plant food is about 35g (1.25oz). If applying to established plants, apply 70g/sq.m (2.5oz/sq.yd) around the base of the plants and gently fork into the soil surface without disturbing the roots. Alternatively, sprinkle the granules over the soil surface around the stem of the plant and water in well. If using at the time of planting, scatter 70g/sq.m (2.5oz/sq.yd) into the bottom of the planting hole and mix well with the soil or compost when refilling the hole.
Fish, Blood & Bone all purpose plant food is available in either 4kg or 10kg. If you are unsure how much you may need, contact us and we will happily advise you.
If you are unsure on what accessories and products you require to go with your hedging plants, please do not hesitate to call us on 01252 714552 or email us on sales@hedgesonline.com
Delivery
Should you require delivery, a delivery charge will be calculated based on your postcode and added at the checkout stage. Collection from our nursery at GU10 2BH is free of charge.