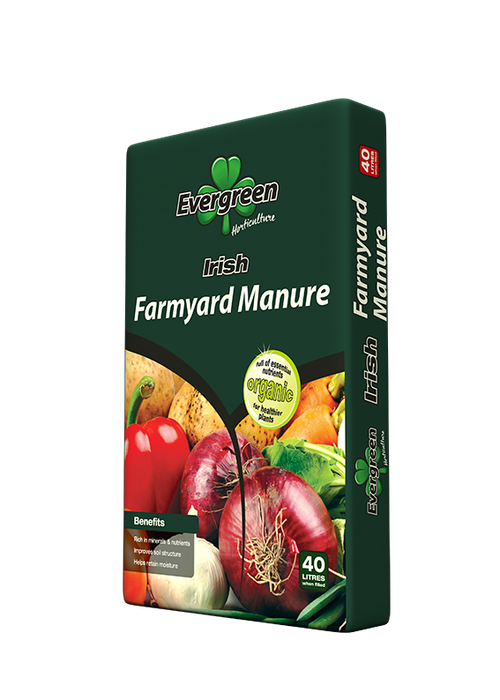 Farmyard Manure 40lt Bag
Original price
£4.00
-
Original price
£4.00
Current price
£4.00
(+VAT)
Farmyard Manure is a rich organic compost ideal for use all around the garden. Farmyard Manure is perfect for mulching, planting and soil conditioning. It is an ideal soil conditioner and compost for planting all types of hedging. It breaks down naturally in the soil, releasing nutrients as well as providing a rich, natural source or organic matter and humus
When digging holes for your hedging plants, it is important to dig the hole slightly larger than the pot or root ball size and mix in farmyard manure with the soil already in the ground.
For use as a soil conditioner, it is recommended that you spread an even layer of this product 5-8cm deep all over the soil and fork in to a depth equivalent to the height of the pot or root balls that you are planting. Adding it to the base of the planting hole is also useful.
On light sandy soils, this product will help retain moisture and improve the organic matter content of the soil.
On clay soils, this product will help to improve drainage and break down the structure of the clay.
It can also be used as a mulch by spreading a layer on the surface of the soil (after planting) annually which will help to feed, retain moisture and protect plant roots from the effects of frost and heat and will also suppress weed growth.
Each of these bags contains 40 litres of farmyard manure. There is no hard and fast rule as to how much is needed per plant, so it is usually easiest to call us with what plants you are planning on planting, and we can advise how much is needed for your order.
We also stock a range of other useful accessories for use when planting hedges.
Call us on 01252 714552 or email us on sales@hedgesonline.com for more information or to discuss how much farmyard manure will be needed for your chosen hedge.
Delivery
Should you require delivery, a delivery charge will be calculated based on your postcode and added at the checkout stage. Collection from our nursery at GU10 2BH is free of charge.