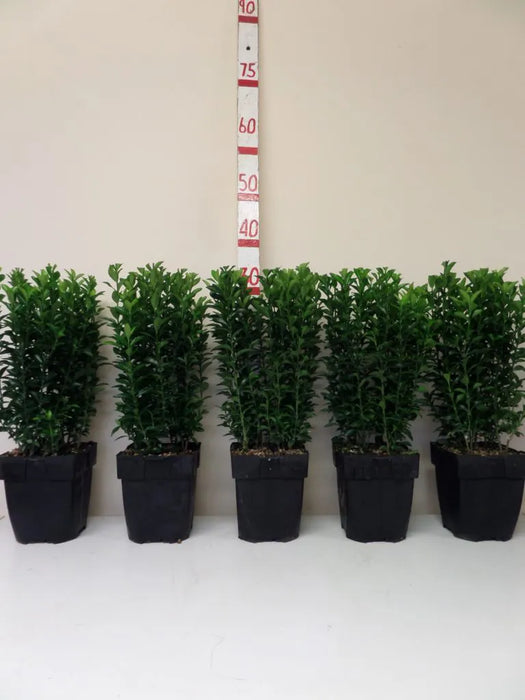 Euonymus Green Spire 20-25cm in a 2lt pot
Original price
£5.25
-
Original price
£5.25
Current price
£5.25
(+VAT)
Planting a Euonymus Green Spire hedge is a great alternative to planting a Box hedge and has become increasingly popular in recent years. Many people prefer it to Box for a number of reasons, not least of all its slightly darker colour. These 20-25cm plants are all grown in a 2lt pot and therefore come with an established pot full of roots to give your plants the best chance of quick and successful establishment.
A Euonymus Green Spire hedge is evergreen and produces a mass of small green leaves and grows well in many situations. It produces a thick hedge suitable for garden borders and for demarcating separate parts of gardens. Euonymus is an increasingly popular option for planting in many formal gardens as it clips well and retains its shape.
Euonymus is slow growing and you should only expect around 15cm (6 inches) of growth a year. It will need clipping annually to encourage it to thicken out to make a dense hedge. Euonymus clips extremely well and can be used to make very tight shapes.
These plants can be spaced as tight or spaced as desired but most people tend to plant at a spacing of 5 or 6 plants to the metre to give a fairly immediate impact after planting. They can, of course, be spaced slightly further apart but will take longer to thicken out into a dense hedge.
A Euonymus Green Spire hedge will grows well in most soil types, and is tolerant of shade and full sunshine, however we recommend that planting compost is used to give your Euonymus hedge plants the best chance of establishing well in their first few years after planting.
More information about planting a Euonymus Green Spire hedge can be found on the Euonymus hedging category page. We usually stock a range of different sizes of container grown plants throughout the year.
For more information about Euonymus Green Spire 20-25cm in a 2lt pot or to discuss alternative products, call us on 01252 714552 or email at sales@hedgesonline.com
Delivery
Should you require delivery, a delivery charge will be calculated based on your postcode and added at the checkout stage. Collection from our nursery at GU10 2BH is free of charge.