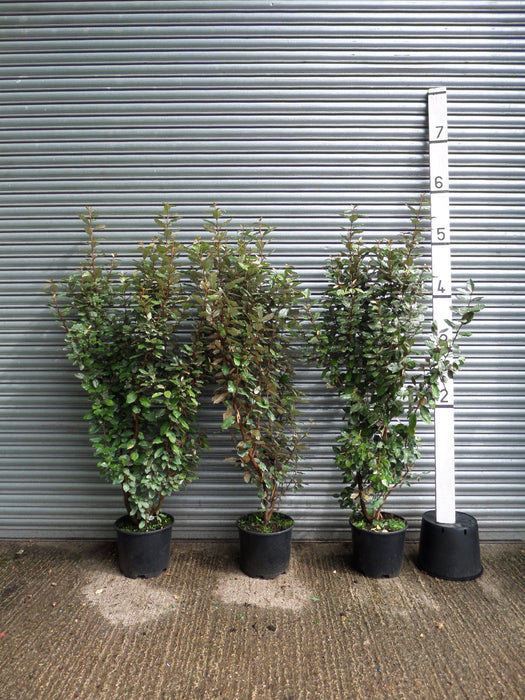 Elaeagnus Ebbingei 5ft (150cm) in a 15lt pot
Original price
£40.00
-
Original price
£40.00
Current price
£40.00
(+VAT)
These Elaeagnus hedging plants are all 5ft (150cm) and are growing in 15lt pots so they come packed with roots ready to establish quickly in your garden after planting.
Elaeagnus hedging has large leathery green leaves with a silvery underside, is evergreen and produces small white flowers in late autumn, which although not particularly noticeable, are highly scented on warm autumn days. It also produces small berries in the spring, which is where it derives its alternative name of the Russian Olive (please do not eat them though as they are poisonous to humans).
Elaeagnus hedging grows relatively quickly and is ideal for making a small to medium size hedge up to 6ft (180cm) in height. It will put on around 1-1.5ft (30-45cm) in height annually if left untrimmed but the upwards growth will slow when it has been trimmed at the required level and is very easy to maintain with an annual clipping. It is a hardy evergreen used extensively inland and is also commonly found in coastal gardens due to its tolerance of salt and strong winds winds which is why it is commonly planted along the south coast overlooking the sea often on quite poor soil.
We would recommend planting these Elaeagnus hedging plants 60cm (2ft) apart (stem to stem) which is the correct distance for planting to create a good hedge (this is the spacing shown in the photograph). Although they will grow on most soils and is very tolerant of sunshine and shade, we would advise using a good planting compost to give your plants the best chance of establishment. if they are being planted during the warmer months of the year, it is important to water your hedge properly during its first year of establishment and this is best done using leaky hose. If in doubt about what sort of aftercare you need for your Elaeagnus hedging, contact us and talk to us and we will always advise you whats best.
For more information on Elaeagnus Ebbingei 5ft (150cm) in a 15lt pot, please call us on 01252 714552 or email us at sales@hedgesonline.com
Delivery
Should you require delivery, a delivery charge will be calculated based on your postcode and added at the checkout stage. Collection from our nursery at GU10 2BH is free of charge.