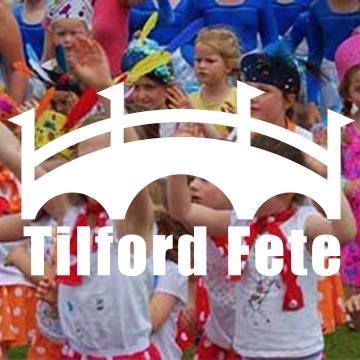 Sponsoring Tilford Village Fete
Yet again, we are delighted to be sponsoring Tilford Village Fete. The annual fete in our home village takes place on the second Saturday in July annually. This year, it is being held on Saturday 8th July on the village green. Full details about the fete can be found by clicking here.
The Tilford Village Fete was back not so much with a bang but a cosmic explosion in 2022. It was a glorious English summer's day, azure blue skies, sunshine and gallons of Pimms. There is nothing finer than an English Summer's day and there is nowhere finer to be than at the Tilford Village Fete.
The first mention of a fete or fair on Tilford Village Green was in 1848, despite two world wars and Covid, it's still going strong. A letter dated 1848 from the Tilford Club Secretary to Mr Ware of Tilford House asking for support and saying "Mr Stovold of Tilhill has given a fat sheep for the feast on June 26th", 1848. No fat sheep in 2022 but plenty of street food stalls including low fat Quorn burgers. Hmmm the 1848 offering sounds great to me but we move with the times. There had been no Fete in 2020 and 2021 thanks to 'The Rona' but despite a late start and lots of new faces, the Organising Committee deserve lots of praise for pulling it off with record breaking attendances, massively up on previous years; there were at least 50% more cars in the car park.
In keeping with the spirit of help from the owners of Tilford House over the 170 years history of the Tilford Village Fete, a big thanks to Steve and Tracy Windsor who most kindly let the village use their field for parking and the raft race on the River Wey.
Also, a great big thank you to the Ahmadiyya Muslim Community Tilford, for suppling the PA system and manning the car park. Yet again those lovely folk from Islambad Tilford providing invaluable help to the village. They are such a welcome and valuable part of our village community
What was the star of the day? The really cool 1914 Fire Engine, the superb performances by DeMeric School of Dance and Showshack, the wild wicked and wet Raft Race, Tilford's Got Talent, English cream teas or a refreshing glass of Pimms in the shade? It's hard to choose.
Mr Compere the incomparable Mr Harry Lanaway cut a dash in his amazing Union Jack suit, Harry kept proceedings moving along with a deft jovial touch. Many thanks Mr Harry.
Kids loved the Dennis 1914 Fire Engine kindly loaned by the Rural Life Centre, not just something to look at but jump on board, ring the bell, toot the horn; you could clamber all over it, it was great fun and I had a little go myself – ding ding. Why should the kids have all the fun? Unfortunately, I was too big for the bungees and rides at the Mini Fun Fair.
Tarns and the WI set up a traditional English Tea Room with cream teas and as you would expect with the WI involved, great gooey cakes. Well done ladies you did an amazing job. P.S your Cheese Straws need more cheese and less straw for 2023, nah just pulling your leg.
There were over 50 eclectic stalls; plants to physio, natural potions to pooch accessories and not forgetting the Waffles stall with queues all day. But the pick had to be Hazlebank Nurseries from Tilford with a wonderful display of beautiful plants in an amazing kaleidoscope of colours.
If you want a stall for 2023 do book and pay early as we had to turn away many stallholders last year.
Well done to all the Pom Pom Paraders and Tilford Fete Performers, performing various dances from Contemporary, Jazz & Ballet, there were lots of lovely comments. The performers had a blast parading around the Green and the students performed beautifully with the sun beaming down. They all did brilliantly and Mrs DeMeric the amazing founder of DeMeric School of Dance (c1961) 92yrs young was in tears and incredibly proud of all the performers.
There was a huge turnout for the novelty dog show, sponsored by local business Ana's Pet and Tack. They strutted their stuff around the ring and so did their dogs, the prettiest pooch and most handsome hounds, not forgetting the big sit; well-trained canines were exemplary doing a long big sit – I know what you are thinking but don't go there.
The Family Challenge is always a favourite; family teams compete in all sorts of novelty relay races such as old favourites like the wheel barrow race, egg and spoon and sack race. It was very competitive! Well done to those fast anad fit guys and girls from Waverley Harriers. Get in training now for 2023.
The highlight of the day was the Raft Race (kindly sponsored by CGJ Mathias & Son Nurseries and Hedges Online), 12 intrepid teams built and dressed in the theme of Best of British. Rafts decked out as tennis courts, cricket pitches, the Tower of London, an afternoon tea stand not to mention the Spice Girls, Queen Victoria, Queen Elizabeth 2nd and four burly chaps with matching pink hair and bright blue dresses as Alice in Wonderland. They had to fight their way down the river Wey. And I mean fight, it was a battle, they had to run the gauntlet of over 100 water pistol toting spectators plus a rather wicked Queen Elizabeth II (AKA Steve Windsor) wielding a powerful hose pipe, its my field and I will squirt if I want to. But the paddlers fought back splashing the crowd thronging the bank. It was mayhem, who won I have no idea, but it was glorious fun for the participants and the crowd who really got stuck in. It could only happen in England, at Tilford's quintessentially eccentric village fete!
Less mayhem in the Duck Race, Bob our duck wrangler released seven well trained plastic ducks who floated gently down the stream; the winning duck paid out to all those who had a bet on him or was it a her? No ducks were harmed in the race, all given a wash and brush up and put away till next year.
The Kids Disco is a highlight for the youngsters from the village; Calvin Harris wasn't available but Jess McKenzie from Showshack was and much cheaper, just half a shandy, what a great job she did too.
Tilford's Got Talent – the performers wowed the crowd, the band Inferno featuring Jarvis Gray on guitar were declared the winner after a powerful performance of 'A Highway to Hell; it could be the start of the band's highway to success and we could say we were there…..
After dark there is a wonderful village tradition, a picnic supper on the green with dancing to a live band late into the night; revellers brought along their own food and drink (or got Deliveroo). There was some very tasty street food on offer from Thai, Mexican, Pizza, and BBQ stalls. The drinks flowed from the Barley Mow all day and all night; they did a great job with ringing tills and beaming smiles.
It was a long tiring day for the Organising Committee who toiled under the relentless sun. They showed great stamina, boogying away 12 hours later under the bright full moon to Band on the Rum and by the looks of things the Committee were on the Rum and well deserved too.
Profit from the fete go to a local charity. 2022 was All Saints Church roof and 2023 will be The Tilford Institute.
The Tilford Institute was built in 1893 with a donation of £1000 (probably about £100,000 in today's money) by Charles Anderson from Waverley Abbey house, there is a plaque on the Institute dedicated to Charles.
See you this year on the second Saturday in July, the 8th