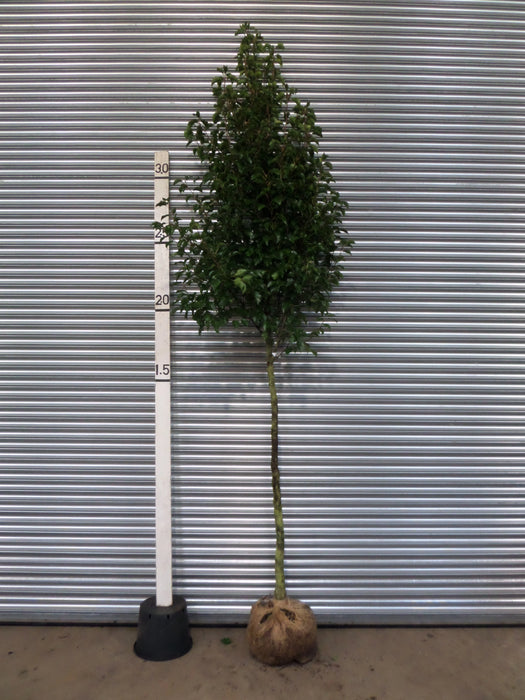 Pyrus Chanticleer- Flowering Pear (Standard Tree) Rootballed
Original price
£95.00
-
Original price
£95.00
Current price
£95.00
(+VAT)
Due to their size, delivery is quoted on an individual basis as they are too tall to fit on pallets.  Please telephone us on 01252 714552 to discuss delivery options or we will telephone you after you place your order to discuss transport arrangements.  
These standard trees are rootballed, that is to say that they are field grown trees that have been dug out of the ground with a ball of soil around the roots, wrapped in hessian.  These are preferable to planting bare root trees as there is less stress put on the tree.  They should be planted with the hessians still in place as it will quickly rot away and the new root growth will push through the hessian.
Pyrus Chanticleer have many informal names including the Flowering Pear, the Callery Pear and the Ornamental Pear. They are conical shaped deciduous trees with dark green oval shaped leaves and scented white flowers in the spring. The leaves colour well in the autumn and are highly attractive with their yellow, crimson and orange autumnal colours. Pyrus Chanticleer are one of the first trees to come out in leaf in the spring and one of the last to lose their leaves in the autumn.
These Pyrus Chanticleer standard trees will grow into handsome specimen trees that fit well in many gardens. It is a very easy to grow tree that is suitable for many situations and will remain as a medium sized tree.
As these are substantial sized Pyrus Chanticleer trees, we recommend that they are planted and fixed using a tree stake and tree tie to stabilise them during their first few years after planting. This will help prevent damage occurring in strong winds before their roots have become properly established. We also recommend planting these trees in a mixture of soil and compost to give the roots the best environment to get settled in. If you are in any doubt as to what accessories you may require for planting these trees, please give us a ring and we will happily advise.

For more information on Pyrus Chanticleer– Flowering Pear (Standard Tree) Rootballed please call us on 01252 714552 or email us on sales@hedgesonline.com and we will assist with any queries regarding these trees.
Delivery
Should you require delivery, a delivery charge will be calculated based on your postcode and added at the checkout stage. Collection from our nursery at GU10 2BH is free of charge.