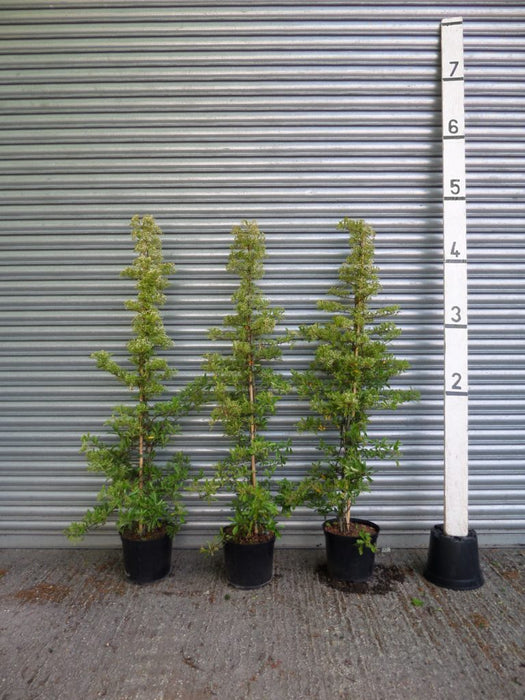 Pyracantha 5ft (150cm) in a 7lt pot (Yellow)
Original price
£17.50
-
Original price
£17.50
Current price
£17.50
(+VAT)
This yellow Pyracantha is an excellent security hedge plant. With its long thorns and its climbing nature, it is an ideal plant to plant along a garden fence where there is concern over security. These plants are all sold as 5ft (150cm) in height and are growing in a 7lt pots. These are all the yellow berried Saphyr variety.
Pyracantha is also known as Firethorn, due to its aggressive thorns that can make it difficult to handle. It has small dark green elongated leaves and long thorns that make it good for planting as a security hedge. Pyracantha produces small white flowers in the Spring which are followed by an abundance of red, yellow or orange berries (depending on variety) in the Autumn which usually last into the Winter and provide an excellent food supply for birds.
Pyracantha hedges can be trained against a wall or fence, espaliered or can simply be planted as a standalone hedge. Pyracantha will quickly thicken out to form a dense and attractive evergreen hedge.
Pyracantha will grow on most types of soils (as long as they are not waterlogged) and will grow in full sun or partial shade.
For best results, your Pyracantha hedge should be planted 45cm (1.5ft) apart in a single row (as shown in the product photograph) and to give the best chance of success use a planting compost mixed into the soil and top dress with fertiliser in the late winter. If planting during the summer, ensure that the plants are properly watered using leaky hose which is cheap, easy to install and highly effective.
Pyracantha needs trimming annually to encourage it to thicken out into a dense hedge.
More information about planting a Pyracantha hedge can be found on the Pyracantha hedging category page. We usually stock a range of different colours of container grown plants throughout the year.
For more information about Pyracantha 5ft (150cm) in a 7lt pot or to discuss alternative products, call us on 01252 714552 or email at sales@hedgesonline.com
Delivery
Should you require delivery, a delivery charge will be calculated based on your postcode and added at the checkout stage. Collection from our nursery at GU10 2BH is free of charge.