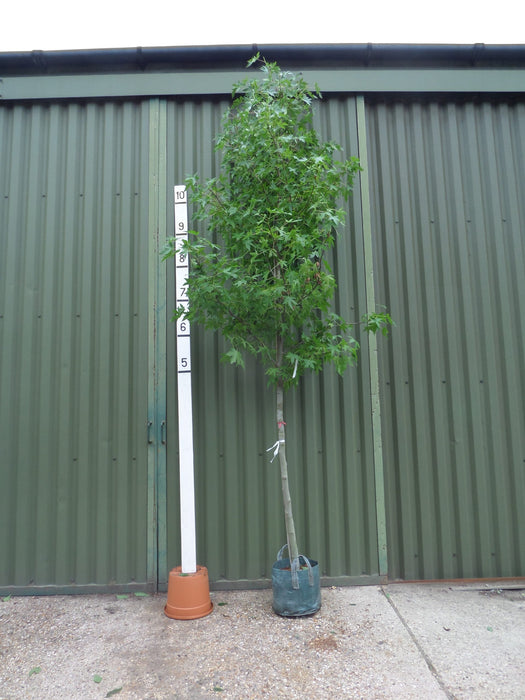 Liquidambar Tree (Standard Tree)
Original price
£125.00
-
Original price
£125.00
Current price
£125.00
(+VAT)
These standard trees are Liquidambar styraciflua 'Worplesdon'. Liquidambars are sometimes known as Sweet Gums and are very distinctive with their maple like leaves which turn a beautiful amber colour in the autumn. They are a very popular specimen garden tree and the Worplesdon is a particularly good variety of this tree.
There has been some confusion over the spelling of Liquidambar. Many people refer to the tree as Liquidamber rather than Liquidambar. To us, the name Liquidamber makes much more sense as they are, of course, named after their beautiful autumnal leaf colour which resembles liquid amber. As the trees are indigenous to North America, we can only but assume that the spelling ...ambar rather than ...amber is an Americanisation of the word amber. Evidently it has stuck and the botanical name Liquidambar is the correct name scientifically.
Due to their size, delivery of these trees is quoted on an individual basis. Customers can of course collect from our nursery with their own transport.
Careful preparation of your planting site is important and we recommend mixing you soil with compost and/or farmyard manure to give your trees the best start. It is also extremely important to plant using a tree stake and tie to support your tree in its first few years to avoid it blowing over until its roots have properly established as anchors in the ground.
We also stock a range of other specimen trees suitable for garden planting. These can be viewed on our trees page.
For more information on Liquidambar Tree (Standard Tree) or for advice on any other trees or hedging, please call us on 01252 714552 to speak to one of our experts or email us on sales@hedgesonline.com.
Delivery
Should you require delivery, a delivery charge will be calculated based on your postcode and added at the checkout stage. Collection from our nursery at GU10 2BH is free of charge.