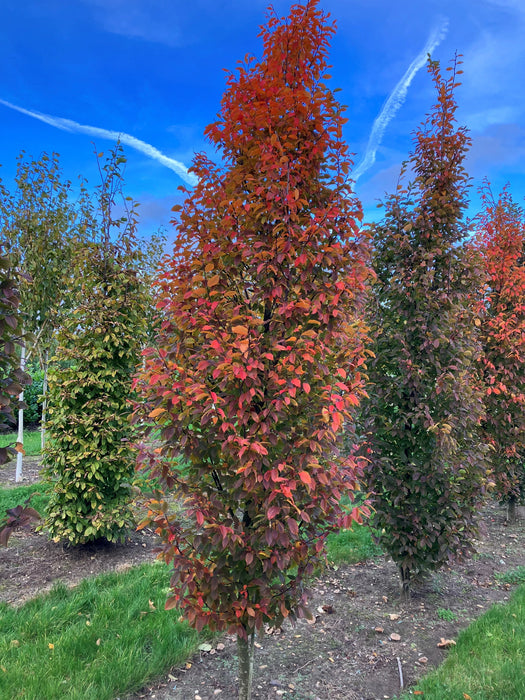 Hornbeam Orange Retz 10ft (300cm) Root Balled
Original price
£125.00
-
Original price
£125.00
Current price
£125.00
(+VAT)
These Hornbeam Orange Retz root balled trees are a selected variety of hornbeam (Carpinus betulus) that has a particularly striking red and orange leaf colour in the autumn. Each of these trees is 10ft (300cm) in height from the top of the roots. These are mature plants that have been regularly trimmed over the last few years to create dense well shaped trees when planted in your garden. Over the next growing season, they will fill out even more. These are all sold as root balled trees, that is to say they are field grown on our nursery and dug to order with a ball of soil around the roots wrapped up in hessian. They can either be used as hedging or as stand alone feature trees.
Being root balled rather than container grown, these plants represent good value for money but should only be planted in the colder months of the year and watered properly in their first year after planting.
Hornbeam screening is a very traditional form of hedging and is native to the UK. The first green leaves of the year are synonymous with the arrival of spring and the leaves will remain green until the autumn when they will turn a golden-copper brown colour. Hornbeam hedges, unlike many of their deciduous competitors, will retain their dead leaves on the hedge for most of the winter and they will only be pushed off by new growth the following spring. This helps a hornbeam hedge to give an added level of visual privacy all year round.
Hornbeam Orange Retz trees can be planted as individual feature trees in gardens.
Hornbeam trees are well suited to heavier soils but if you are planting during the drier months of the year, it is important to water them properly during their first year after planting. This is best done using leaky hose which is cheap, easy to install and highly effective. See our Accessories page for more details.
More information on hornbeam screening can be found on the hornbeam hedging category page.
For more information about Hornbeam Orange Retz 10ft (300cm) Root Balled or to discuss alternative products, call us on 01252 714552 or email at sales@hedgesonline.com
Delivery
Should you require delivery, a delivery charge will be calculated based on your postcode and added at the checkout stage. Collection from our nursery at GU10 2BH is free of charge.