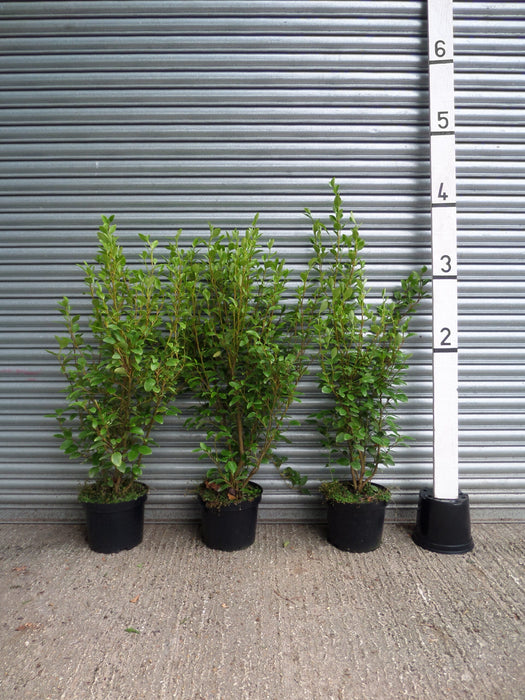 Griselinia Littoralis 3.5-4ft (105-120cm) in a 10lt pot
Original price
£30.00
-
Original price
£30.00
Current price
£30.00
(+VAT)
These Griselinia hedging plants are all 3.5-4ft (105-120cm) in height and are growing in a 10lt pot. Being pot grown, these plants will establish quickly in your garden as the roots are established and ready to be planted out. We normally stock two sizes of Griselinia and these are the smaller size making them a much more cost effective way of creating a new Griselinia hedge.
Griselinia hedging plants are relatively quick growing and one can expect these specimens to put on about a foot (30cm) of growth a year. It will grow quite happily as a smallish hedge of around 3ft (90cm) in height but will grow equally well at a taller level of 5-6ft (150-180cm). When your hedge has reached its desired height, it should be trimmed annually at that height to encourage it to thicken out into a denser hedging barrier.
Griselinia is liked by many for its bright apple green leathery leaves and it makes an excellent hedge. It grows well on most soils (as long as the soil is not waterlogged) and is particularly favoured in coastal situations as it can withstand maritime exposure. It can be liable to inland frost damage though so if you are planning on planting Griselinia hedge plants in a low lying northern facing spot that gets particularly cold, then we would suggest that Griselinia is not the species for you.
These Griselinia hedging plants should be planted 2ft (60cm) apart, as shown in the photograph, and should be planted using planting compost and watered well in the first year, especially if planting during the drier months of the year.
More information on planting Griselinia hedging plants can be found on the Griselinia hedging category page.
For more details on our current stocks of Griselinia Littoralis 3.5-4ft (105-120cm) in a 10lt pot please call us on 01252 714552 or email us on sales@hedgesonline.com and we will be delighted to answer any questions or queries you may have.
Delivery
Should you require delivery, a delivery charge will be calculated based on your postcode and added at the checkout stage. Collection from our nursery at GU10 2BH is free of charge.