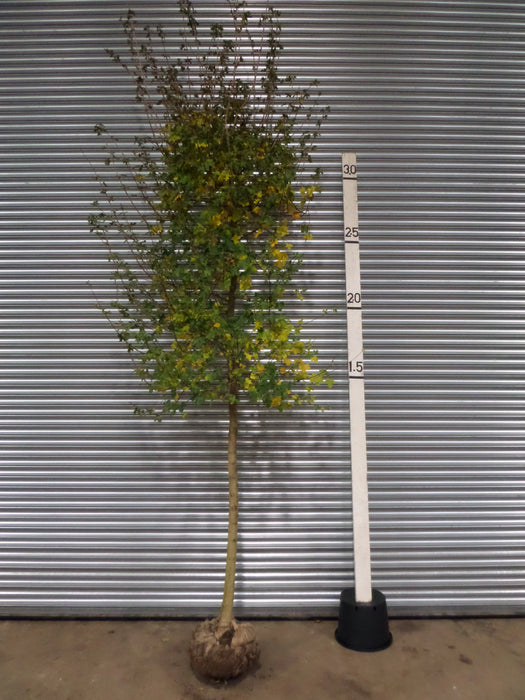 Field Maple Standard Tree 10ft (300cm) Rootballed
Original price
£95.00
-
Original price
£95.00
Current price
£95.00
(+VAT)
Due to the size of these Field Maple trees, we will need to quote for delivery on an individual basis. Please telephone us to discuss delivery of your plants. Plants can, of course, be collected from our nursery free of charge.
Field Maple trees create a striking addition to a garden and can be a highly effective way to add a larger feature to the garden.
These Field Maple trees come root balled which is to say that they are field grown trees that are dug up to order with a ball of soil around their roots wrapped in hessian.  The trees should be planted in the hessian which will quickly rot away and new root growth will easily push through it. Trees of this size should be planted using tree stakes and ties to help prevent them from blowing around too much in their first years of establishment.
Field Maple (Acer campestre) is an excellent deciduous native hedging plant and grows well on most soils. Field Maple (sometimes known as Hedge Maple) has been used for many centuries as a hedging plant and will be found in most farm hedges throughout the country. Its leaves turn a yellow colour in the autumn and can show red flushes. It pleaches well to create raised hedging screens.

In addition to standard Field Maple trees, we also supply Field Maples in a pleached format which are suitable for creating raised hedging screens and are pleached to order. More information on pleached hedging available can be found here.

For more information about Field Maple Standard Tree 10ft (300cm) Rootballed or to discuss alternative products, call us on 01252 714552 or email us on sales@hedgesonline.com
Delivery
Should you require delivery, a delivery charge will be calculated based on your postcode and added at the checkout stage. Collection from our nursery at GU10 2BH is free of charge.