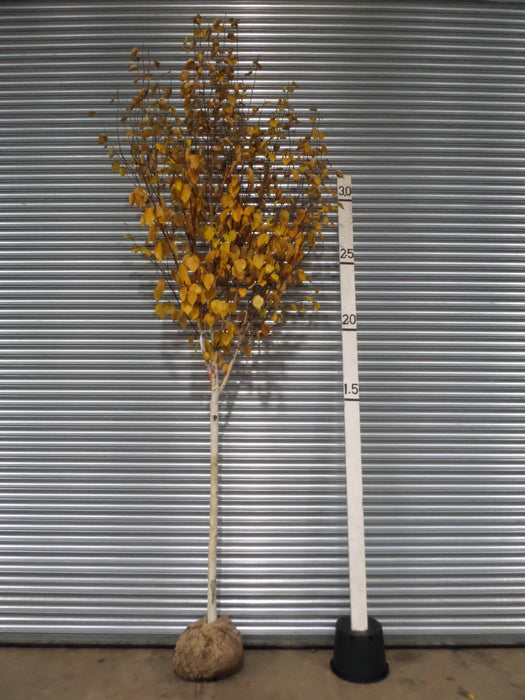 Betula utilis Jacquemontii (White Barked Silver Birch) 10ft (300cm) Rootballed
Original price
£95.00
-
Original price
£95.00
Current price
£95.00
(+VAT)
Due to their size, delivery is quoted on an individual basis as these trees are too tall to fit on pallets.  Please telephone us on 01252 714552 to discuss delivery options or we will telephone you after you place your order to discuss transport arrangements.  
These large white barked Silver Birch (Betula utilis Jacquemontii) are a selected variety, chosen for their white peeling bark and will add interest to any planting scheme.
These trees are all over 10ft (3m) in height and come rootballed, that is to say they are dug straight from our fields with a ball of soil around their roots wrapped up in hessian.  Being rootballed, they are more of a premium tree than the bare rooted version but will still need to be planted as soon as possible after purchase and are only available in the colder months of the year when the trees are dormant.
Carefully prepare the planting hole using planting compost and keep it well watered during its first season of growth. Each tree will also need a tree stake and tie to support it during its first years of growth.
Delivery
Should you require delivery, a delivery charge will be calculated based on your postcode and added at the checkout stage. Collection from our nursery at GU10 2BH is free of charge.